INTRODUCTION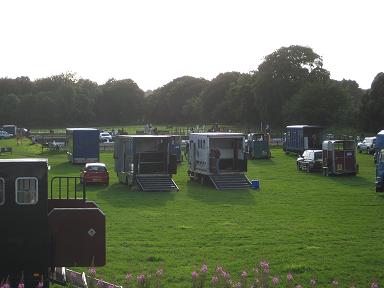 Fife Riding Club was established in 1965 and currently has an annual membership of around 200. The club is one of the few organisations of its kind to have its own permanent showground at Western Avenue, Coul East, Glenrothes, Fife, Scotland, where members have the use of some 8.5 acres of grass together with two all-weather arenas, a sand schooling area and a large "Springturf" ring.

The Club offers a busy and varied programme throughout the year including training in flatwork, cross country and jumping for all levels of ability from beginner to advanced. There are regular weekend shows, as well as mid-week evening competition in all disciplines.
MEMBERSHIP
Membership is open to anyone aged 16 or over.

Three types of memberships are available, namely...


Full riding membership - For members aged 18 years and over


Associate membership - For riders aged 16 years


Non-riding membership
MEMBER BENEFITS
Benefits of membership include:


Discounted entry fees for competitions


Access to subsidised training


Use of the Club's facilities out with normal meeting times
HOW TO FIND US
The Fife Riding Club Showground is situated on the corner of the B969 "Western Avenue" where the road meets the A92 "Balfarg Junction".


View Larger Map

ONLINE ENTRIES SYSTEM
We are trialling a new online entries system. For those interested the
MEMBERS PLEASE NOTE
A further reminder to all members wishing to use the club field for private tuition outwith normal meeting times.

Firstly, the field & facilities are for the exclusive use of PAID-UP MEMBERS ONLY (i.e. Full Riding, Associate or Honorary Members). NON-MEMBERS or other family members are NOT permitted to ride except during open shows. Instructors are not permitted to ride unless they are also members.

Secondly, following advice from BRC insurers,with effect from 1st March 2015, anyone providing private tuition at the club field outwith normal meeting times will be required to forward documentary evidence of valid instructors insurance cover to the Club Secretary in advance. The Secretary will retain details of trainers insurance on file. If the trainer does not have suitable insurance, then they will not be permitted to teach on club premises. Members booking their own trainers are responsible for ensuring their instructor complies with this requirement. Failure to so will be a breach of Club Bye-Laws.
USE OF CLUB FIELD
A reminders that the club field can only be used by members & must be booked IN ADVANCE, giving full details of date/time and name of instructor through Tricia Garnett 07752 581642. Further details on using the clubs facilities, the club Constitution & Bye Laws are available on the membership page
FACEBOOK
For those of you who don't already know FRC now has its own Facebook Group. Check it out for all the latest news, gossip and updates. Please note only members can join & comment on the FRC Group.